Papilio polyxenes (celeri butterfly)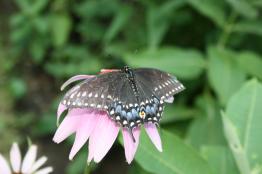 This beautifull butterfly is easy to lure into your garden. You plant parsley, carottes, dill, celeri or parsnip and starting mid-may you can observe the female come lay eggs on either one of these plants that are all hostplants.

Collect the little yellow eggs, put them in a small container and keep away from direct sunlight at all time and a few days later when the tiny larvae will emerge from the eggs, feed them with the leaves of one of its hostplants. Swallowtails prefer fresh food, so have your hostplant in 12 inch pots covered with fine netting so parasites can't infiltrate.

You can also be lucky and find the caterpillars directly on your garden plants. If fall is near the chrysalide will most probably be brown instead of green and will hibernate.